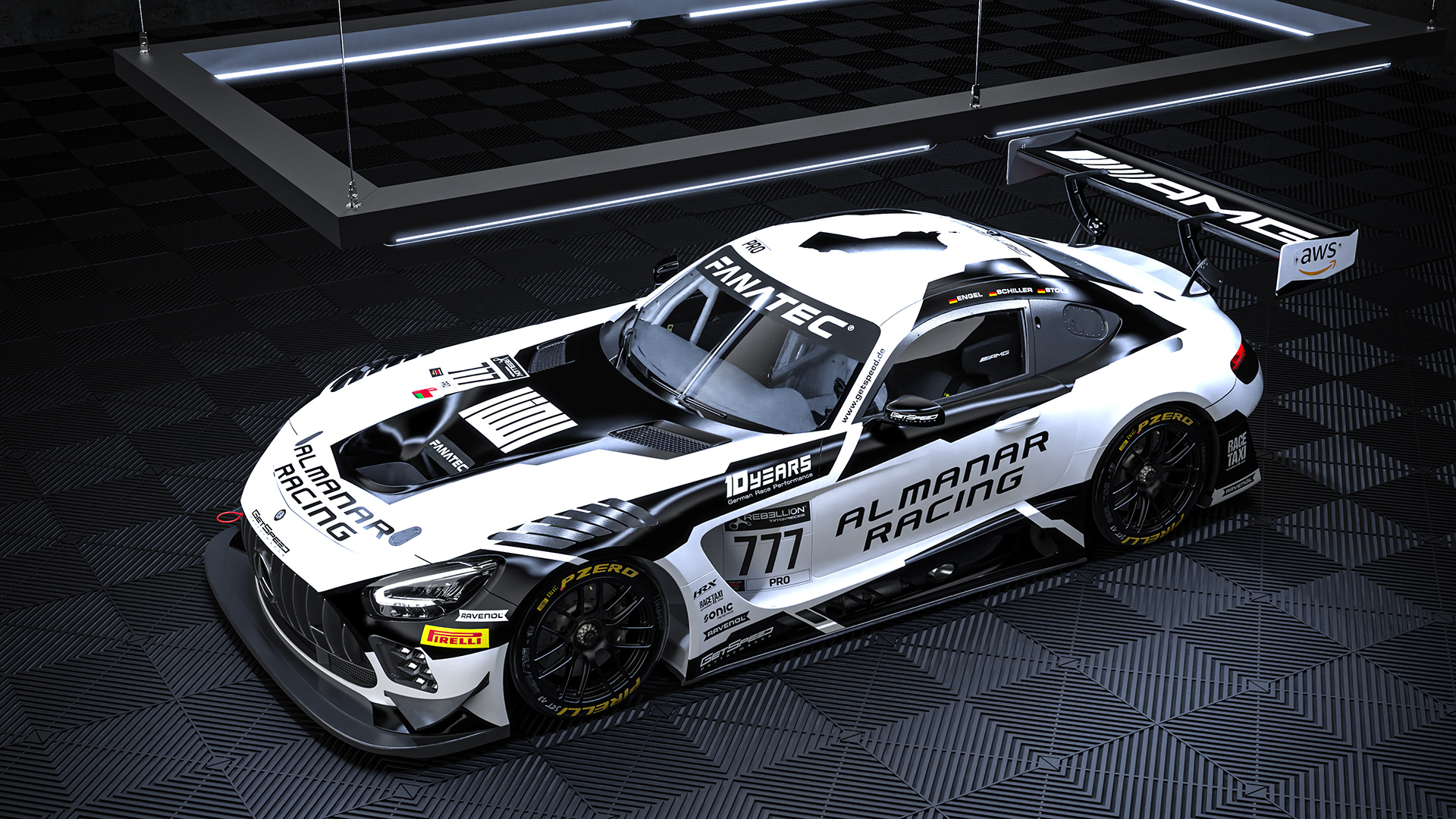 Mercedes-AMG Team AlManar Racing 2023 will compete in the Endurance classification of the Fanatec GT World Challenge Europe Powered by AWS with a top-class driver trio. In the colours of the recently established partnership between the racing team from Oman and the team around Adam Osieka, Maro Engel, Fabian Schiller and Loca Stolz will be competing in a Mercedes-AMG GT3 with start number #777.
"The driver trio is a dream combination that I have have dreamed of for a long time in this form," says Osieka. "Maro, Fabian and Luca are not only an incredibly fast crew for our spearhead, but also a very harmonious trio. I am convinced that we will be able to fight for victories with the #777."
"I'm happy that the GT World Challenge will be starting again soon," says Engel. "For me, the focus this year is on the stability of competing again with GetSpeed and Mercedes-AMG. With Luca, too, I have already contested countless races and we will be reinforced by Fabian. That creates a top line-up with a super team behind us, so we can have a say in the championship."
Schiller, who has celebrated success in various racing series with GetSpeed for years, is also looking forward to the new challenge: "I am very glad to contest a complete season with a pro car in the GT World Challenge again," says the 25-year-old. "I'm looking forward to being part of a team with Maro and Luca and I am convinced that we will cause a stir. I'm ready."
The GTWC Endurance Cup will kick off at Monza from 21-23 April. The series will then make stops at Paul Ricard (2-4 June), the Nürburgring (29-30 July) and Barcelona (29 September to 1 October). The season highlight will be the CrowdStrike 24 Hours of Spa from 27 June to 2 July.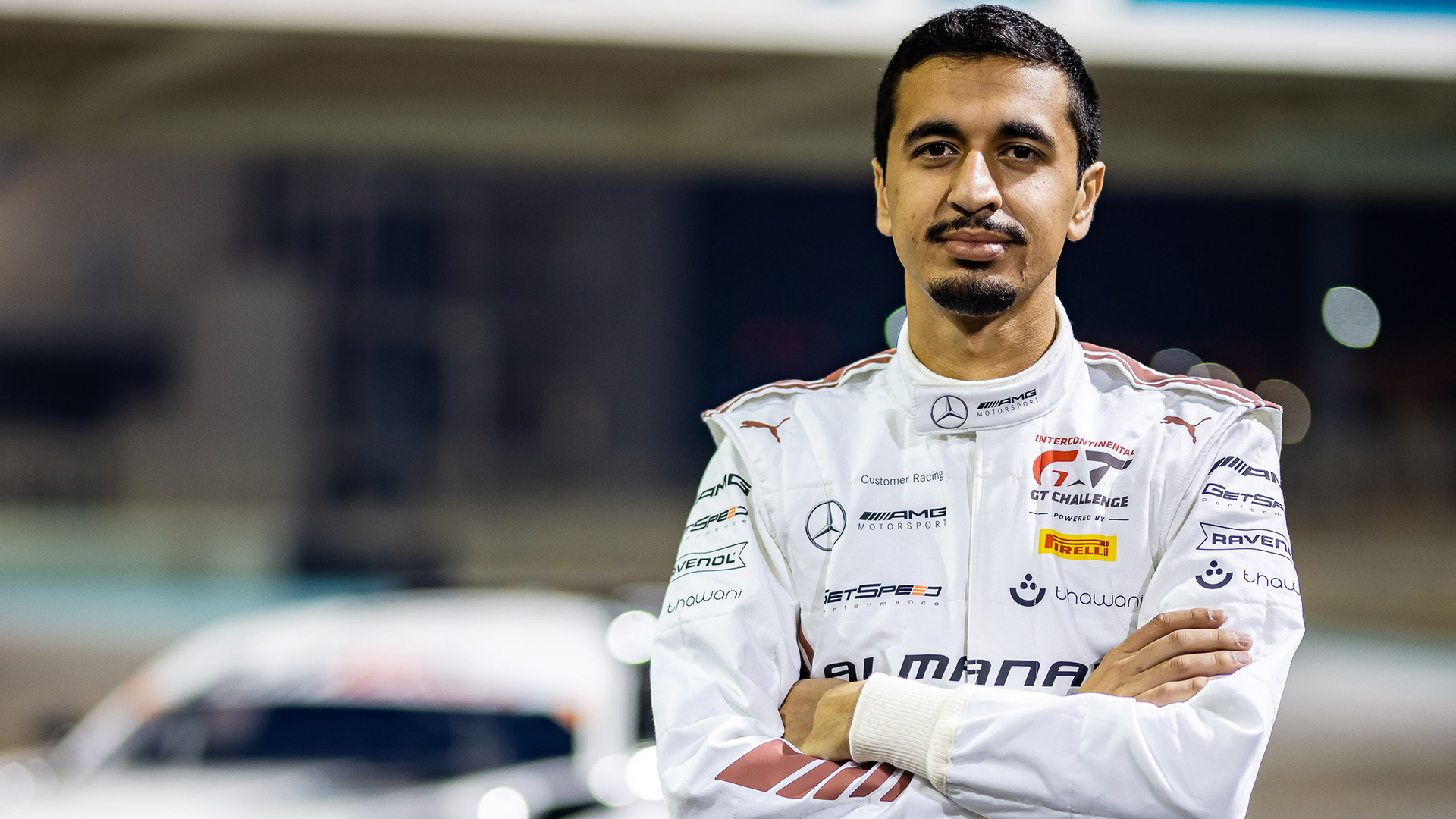 Al Faisal Al Zubair's race programme for the 2023 season has been confirmed. The 24-year-old Omani will this year contest eight events on three continents with the AlManar Racing by GetSpeed team. Their race car will always be a Mercedes-AMG GT3.
Starts in five race series are set: three in the GT Open, two in the Intercontinental GT Challenge and one each in the IMSA, the Fanatec GT World Challenge America Powered by AWS and one in the Le Mans Cup. "Together with Faisal, we have put together a varied programme that will allow him to gain experience in as many race series as possible," said Team Principal Adam Osieka. "Faisal is a great young talent. He has what it takes to become very successful. And we want to actively support him on this path."
The season will kick off with the GT Open in Portimao from 28 to 30 April. Last year already, Faisal celebrated a victory in the European GT3 championship together with GetSpeed. Further stops of his programme will be the Hungaroring (16-18 June) and Barcelona (20-22 October). On 8 and 9 June, they will head to Le Mans. As part of the classic 24-hour race, a round of the Le Mans Cup will take place at the Sarthe. The autumn will also be rich in tradition. From 15 to 17 September, AlManar Racing by GetSpeed will compete in the IMSA at the legendary Indianapolis Motor Speedway. Only one week later, a round of the Fanatec GT World Challenge America will take place at Sebring. From 5 to 7 October, the journey then continues to Indianapolis for the 8-hour race of the Intercontinental GT Challenge. The season finale is the Gulf 12 Hours in Abu Dhabi from 8 to 10 December. Here, too, Faisal already competed with GetSpeed in 2022 and, together with Fabian Schiller and Luca Stolz, only just missed the podium finishing fourth.
"I am really looking forward to the 2023 season," says Faisal. "In cooperation with GetSpeed, we have put together an extremely attractive race calendar for me, where I will be racing on three continents. Races at Le Mans and Indy in particular will stand out as these are circuits that are very rich in tradition and where great racing drivers have celebrated fantastic successes. That is a great motivation for me."
However, Al Faisal AL Zubair's race programme is just one part of the recent partnership between AlManar Racing and GetSpeed. Another important pillar of the joint project will be announced shortly.
From now on, the motto of AlManar Racing will be "GetSpeed". For its worldwide racing operations in the 2023 season, the racing team from Oman will rely on the experience and expertise of the team around Adam Osieka. In addition to celebrating its tenth anniversary, GetSpeed's new partnership underlines that the team is not only fast, but also a top address as a corporate partner.
"I am very proud that we were able to win with AlManar Racing such a strong partner for our joint projects and I am very much looking forward to what will be coming up now. The recently concluded cooperation with AlManar Racing is a big step for us," says Osieka. "In the cooperation we combine our individual strengths and use synergies to be successful together as a team."
The AlManar Racing logo appeared on a GetSpeed car last year for the first time. Together with the team GetSpeed and alongside Fabian Schiller, Al Faisal Zubair was immediately successful when the young duo took a victory at the GT Open finale in Barcelona. Their common journey continued at the Gulf 12 Hours. In December, Faisal and Schiller, together with Luca Stolz, finished fourth and just missed out a podium position.
For GetSpeed, this is the next step towards becoming a full-service partner, in addition to previous partnerships with Vodafone, Schneider Electric, BWT, Bilstein and many others. Events, brand-building or product developments – already since 2013, GetSpeed has repeatedly and in an innovative way succeeded in placing and establishing new technologies or products in motorsport. The first live onboard cameras at the 24h Race or the specifically developed stress level monitoring were ground-breaking.
The detailed race programme for "AlManar Racing by GetSpeed" will be announced shortly.