360° Images and Videos from GetSpeed
Experience the GetSpeed Team up close while living their passion – from any perspective. With the 360°-videos you are in the middle of the racing action from one moment to the next. Be it at the workshop, at the event location or in one of our performance cars – you decide. Regardless if you are on the couch in your living room at the moment or on the road, on a train or at work during passing your lunch break with a drive in a Porsche! See our mechanics at work or use the 3D tour for our exclusive event location – so that you can get a clear impression directly before a personal visit!
Virtual Reality – The Pure Experience
You are putting on your VR glasses and are sitting in a high-performance car in the middle of the Nürburgring. Adrenaline is pumping through your veins. The engine is starting, the pilot is putting in first gear, releasing the clutch and 450 HP are pressing you into your bucket seat. Your heart is beating to the rhythm of the engine. The cockpit is steaming with excitement. Breath-taking landscapes are passing you by at high speed. Trees and cars are merely fleeting shadows in the corner of your eye. You are here. You are alert. You are live in the action.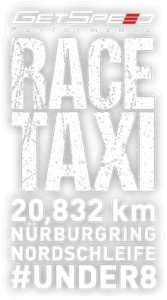 BENZIN IM BLUT?
Erlebe eine atemberaubende Taxifahrt durch die 'Grüne Hölle' beim schnellsten Team der VLN Porsche Carrera Cup Klasse. Nimm' als Co-Pilot Platz im offiziellen Nürburgring Racetaxi im Rahmen der Touristenfahrten auf der Nürburgring Nordschleife oder während des VLN-Freitagstraining, inmitten der Rennboliden. Auf Wunsch inkl. Stress Level Monitoring und Deiner Onboard-Runde als Erinnerung!