Workshop
One-hundred percent performance 
Are the screws loose? Is tire pressure too low? Or do damaged vehicle parts even have to be replaced? None of it is a problem for our trained and specialized motor vehicle mechatronics. In every race, the vehicle is strained even if there have not been any problems in the course of events. It is therefore important to check the vehicle after every exposure to greater strain. When doing so, the trained eyes of our technicians do not miss even the smallest detail. Because we at GetSpeed know: Safety first – and when all parameters line up, then performance will be right, too.
Maintenance and inspection
Repairs of engines and gear boxes
Accident repairs
Appraisals of value and accident damage
Wheel and tire service
Technical Control Board
Support for motorsports
Tuning
If you have questions about our service, you can contact us by telephone or email. Simply contact us without commitment and we will schedule an appointment – so that your vehicle will continue to reach full performance.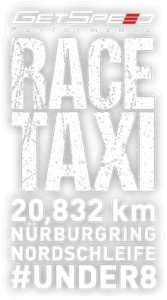 BENZIN IM BLUT?
Erlebe eine atemberaubende Taxifahrt durch die 'Grüne Hölle' beim schnellsten Team der VLN Porsche Carrera Cup Klasse. Nimm' als Co-Pilot Platz im offiziellen Nürburgring Racetaxi im Rahmen der Touristenfahrten auf der Nürburgring Nordschleife oder während des VLN-Freitagstraining, inmitten der Rennboliden. Auf Wunsch inkl. Stress Level Monitoring und Deiner Onboard-Runde als Erinnerung!