Immer eine Challenge
The VLN Endurance Championship at the Nürburgring has existed since the year 1977 and it takes place on the Nürburgring-Nordschleife course. The popular sports racing series was known as the Endurance Cup until 2000. Drivers with respectively different types of cars compete in various classes – from common passenger cars to fully developed race cars. Depending on the event, the times of the races vary between 4 and 6 hours. During the competitions, there are more than 170 vehicles on the course – but drivers usually take turns.
Find more information about all dates of the current season here. In addition, you will get the exclusive GetSpeed VIP Tickets for lounge no. 11 from us.
DMV GTC
In the year 1990, the success story began with the Hockenheim Cup that was held initially only at the Hockenheimring. Later on, further tracks were added and in 2018, the by now 29th DMV GTC season is kicked off.  Two separate races are driven, which is the DMV GTC and the DUNLOP 60 race.
Starting vehicles:
Martini Porsche 991 GT3 Cup / Drivers: Karlheinz Blessing, Manuel Lauck
Lamborghini Huracan / Drivers: Oliver Engelhardt
Successes:
Win of the overall standings in the Porsche Carrera Cup Class and Vice-Champion title in the DUNLOP 60 Championship
Starting vehicles:
Martini Porsche 991 GT3  Cup, Drivers: Karlheinz Blessing, Manuel Lauck
13. – 14.04. Hockenheim
27. – 28.04 Dijon (FR)
18. – 19.05. Red Bull Ring (A)
08. – 09.06 Nürburgring
29. – 30.06 Monza (I)
27. – 28.07 Hockenheim
31.08. – 01.09 Zolder (B)
05. – 06.10. Hockenheim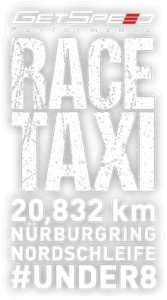 GOT GASOLINE IN YOUR BLOOD?
Erlebe eine atemberaubende Taxifahrt durch die 'Grüne Hölle' beim schnellsten Team der VLN Porsche Carrera Cup Klasse. Nimm' als Co-Pilot Platz im offiziellen Nürburgring Racetaxi im Rahmen der Touristenfahrten auf der Nürburgring Nordschleife oder während des VLN-Freitagstraining, inmitten der Rennboliden. Auf Wunsch inkl. Stress Level Monitoring und Deiner Onboard-Runde als Erinnerung!